Wedding dress shapes & styles
Knowing where to start when looking for your dream wedding dress can be tricky!
Especially if you are creating a bespoke dress from scratch.
To help we have put together a simple guide which highlights the popular traditional wedding dress shapes/ styles.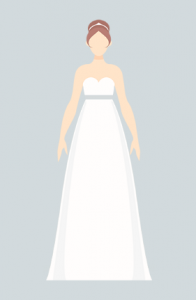 The A-Line wedding dress shape has a fitted bodice and flares out from the waist.
The shape of the dress gives you an 'A'.
Flattering on most body types making it a popular skirt silhouette.
Very comfy with plenty of room for movement whilst making you look stunning.
Most recommended for straight or inverted triangle figures.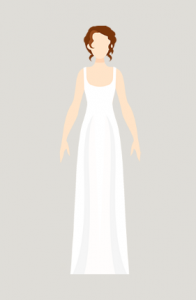 Sheath Shaped Wedding Dress
This dress follows the body's natural line and has a long slim silhouette without flare.
Also referred to as a column shape.
This silhouette is most popular on sleek, athletic/ straight and hourglass figure.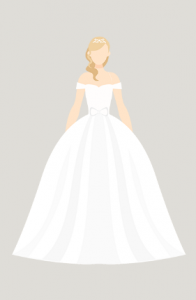 Ballgown Shaped Wedding Dress
The full skirt is the most recognisable trait of this shape.
Also known as a princess dress.
The skirt contrasts with a fitted bodice and clinched waist.
A dramatic classic dress shape that can compliment most body types.
Most popular for brides with boyish figures.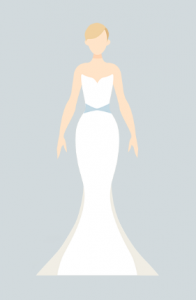 Mermaid Shaped Wedding Dress
This shape hugs the top half of the body tightly and flares out from the knee and below.
Also known as a fishtail shape.
Perfect for brides who want to show their body shape and curves.
Most popular with hourglass figures.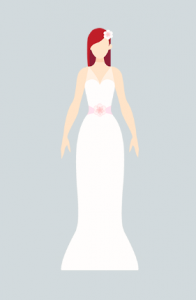 Trumpet Shaped Wedding Dress
A straight-lined skirt that subtly flares from the knee.
Skirt shape is similar to a trumpet.
Popular with curvy Brides who are looking for a form fitting dress that is slightly easier to move in.